SaaS (Software as a Service) is a revenue model in which you allow your customers to use your software for a weekly, monthly or annual fee. To get a customer to pay for your software – for example a CRM solution – you need the power of persuasion by your side.
We have been running campaigns for SaaS companies for years. Based on that experience, we will share our top 7 SaaS marketing secrets down below.
1. Build a marketing strategy specific to your SaaS solution
Even though SaaS marketing is unique, it always starts with the same first step: build a marketing strategy.
Analyse the competition and determine what sets you apart.
Define the target group and your position in the market.
Get clarity on which 'pains' you solve. In other words: define your unique selling points (USP).
Create a marketing action plan that's based on these steps, including a planning and goals.
Once you're all set, you can measure the success of your plan by mapping out the customer acquisition cost (CAC), the customer lifetime value (CLV) and the return on your investment (ROI). Always use this benchmark: a solid CLV:CAC ratio is at least 3:1.
2. But always start with optimising the conversion rate of your website
Your website is the store front of your SaaS business. Make sure it looks great and, most importantly, ensure that it converts. Your products may be appealing, but to get people to buy them is a whole other thing. It's therefore important to analyse and optimise for conversion. This process is also known as conversion rate optimization (CRO).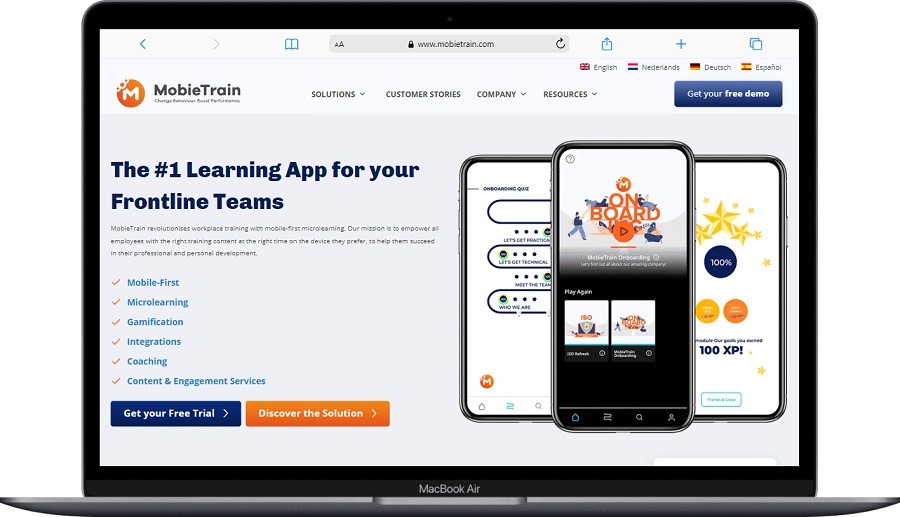 CRO for our customer Mobietrain: The 'sticky' button in the top right corner remains visible at all times and therefore increases conversion.
3. Showcase your expertise and become an opinion leader
Before customers are willing to spend their big bucks on your software, they must have blind faith in what you represent as a company. You have a great product that will help their company, but you're not the only SaaS marketing business out there. You're the expert, so present yourself as one. Create content that contributes to the idea that you are the expert. For example, if you sell CRM software, write an e-book for managers on how to increase their sales.
Content marketing platform Hubspot even goes as far as to provide training and certificates in the field of content marketing.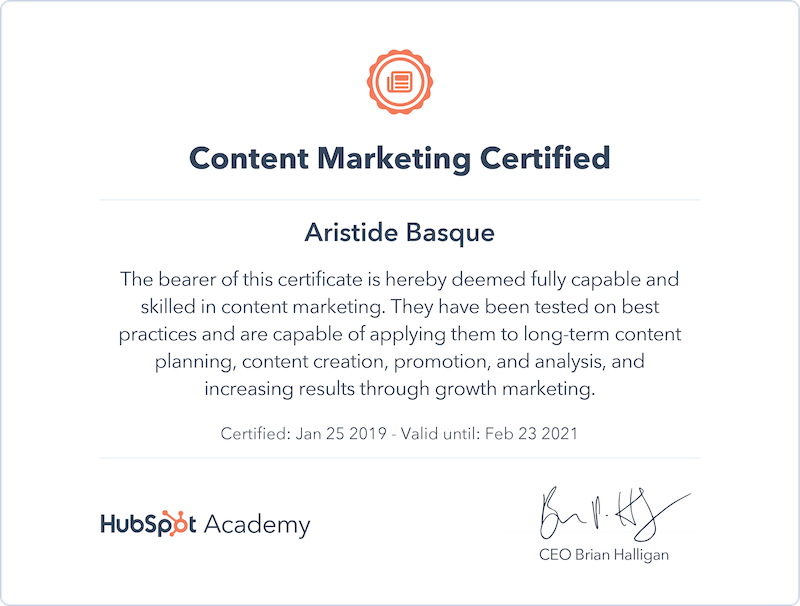 4. Focus on the solutions you offer
This is the biggest pitfall of many SaaS companies: they are often (rightfully) so proud of all their features that they want to communicate all of it. Even if your product is a wonderful solution, don't focus on it. That may sound strange, but customers are much more interested in how it benefits them.
Certain advantages arise from your cloud solution, such as 'quick and easy communication within a company'. Focus on these benefits, not on how they come about – unless you're sitting down with a company's tech department. In short: focus on the 'benefits' and less on the 'features'.
5. Cherish your potential customers
The decision-making process of a potential buyer of a SaaS product can take a while. Be patient and nurture the contact with your potential customers. Little by little try to pull them closer. This process is called 'lead nurturing'.
Let them sign up for the newsletter, offer them a free e-book and show reviews from happy customers on your website. Do this as long as is necessary to make them want to buy.
Tip: Use retargeting. With cookie pixels, you can repeatedly trigger your website visitors on social media. For instance, we regularly use retargeting advertisements with case-study videos and whitepaper advertisements.

6. Don't forget your existing customers
There is nothing more valuable than a satisfied, existing customer. And every time a subscription to a SaaS product expires, that existing customer becomes a potential customer again. This is the moment where they can decide whether to keep their plan. Keep paying attention to the customers you've already reeled in, even if it's a while before their subscription terminates.
Constantly inform your (potential) customers through newsletters about your drive to improve. Also ensure that customers feel like they matter and that their input is taken into account. You can do this through frequent surveys, for example. Customers who feel that they are part of a community or a development are often the most loyal customers.
7. Use SaaS solutions for your own marketing
The number of possible marketing activities is almost unlimited, and luckily there is a huge range of software available to speed up or automate some processes. Use the software that is available, but only the software that is suitable for you. From simple software for formatting monthly newsletters to complete CMS software. Below you will find a list of the tools we recommend:
Google Analytics: The basic tool for monitoring the traffic on your website
Google Tag Manager: Makes all conversions and interactions measurable
Google Search Console: To discover errors such as 404s on your site
Hotjar: User-recordings and heat maps to discover hurdles in your website
Ubersuggest: A free tool to discover new keywords
Mailchimp: A tool to send newsletters and create email automation flows
Hubspot: A platform to convert your leads into customers
Unbounce: A tool to quickly build landing pages
Canva: To create your own fun social posts with ease
Need advice?
With over 35 marketing specialists we work on the content, web design and campaigns of various SaaS companies. Benefit from the expertise of SaaS marketing agency Whello and drop us a message.
Read our other blogs