Digital marketing
agency in Amsterdam
From scaleups to corporates, we help companies of all shapes and sizes grow. Our experience with fast-growing brands is the foundation of our services: we know what's needed to strategically grow your brand from one phase to the next.
Building your marketing team together
We're an all-in-one marketing shop that'll put together the perfect team for you. Who's on that team? Well, it depends on where you're at with your growth. We'll bring in the marketing specialist you need when you need them.
Working together with Whello
You'll get your own marketing strategist
Together, you'll determine which specialists you need
With a flexible team, we can quickly act on marketing opportunities
Whello offers a full range of digital marketing expertise, all in one place. Combining these skills creates a powerful synergy. Our web developer, for example, creates better-performing websites by working closely with our SEO and CRO specialists. Likewise, our in-house creative copywriters ensure our campaigns are more effective.
Get to know the specialists working at Whello right here.
During an assessment, we determine together where your marketing opportunities lie. Based on that, we assemble a team. These specialists are an extension of your marketing department.
Within a fixed number of hours per month, they will work with you on a growth plan. Every quarter, we analyze the marketing opportunities and deploy the specialists you need at that time.
Our team works step by step on the marketing growth formula:
Establishing a distinctive brand story with strong content
Building a persuasive website
Setting up successful campaigns
We have in-house data specialists who make all actions measurable. We optimize extensively and share the learnings with you. During the strategy sessions, we discuss all the data insights. This way, we make the right choices together on the path to growth.
You expect initiative and direction from your marketing partner. We understand that better than anyone else. Therefore, working in established routines is the foundation of our approach.
Count on weekly updates, monthly report meetings, and a quarterly evaluation in the form of a strategy session. This keeps everyone up-to-date and allows for timely adjustments.
International campaigns
CowManager
CowManager's software and sensors allow dairy farmers to monitor their cows 24/7. Whello has helped this SaaS scale-up to gain market share in the Netherlands, Germany and North-America.
Read More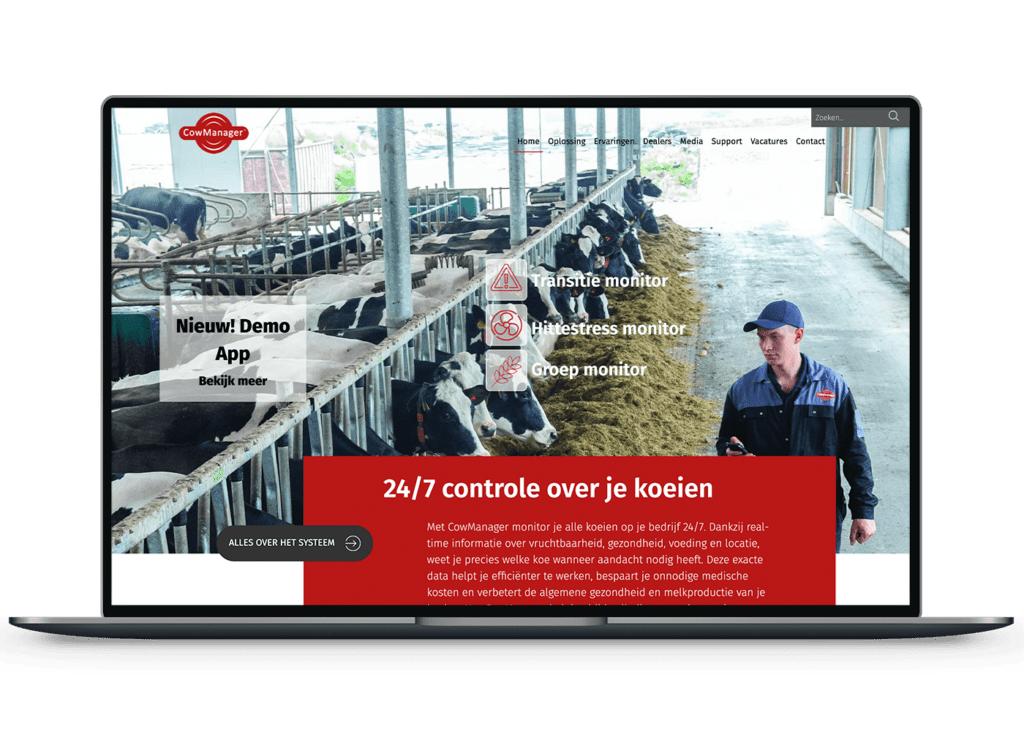 B2B SaaS marketing