Nice brands,
even nicer work
We can tell you that we know how marketing works, but what do we have to show for it? We've created a selection of our best client cases, that we hope can guide and inspire your own marketing. Have questions about our client cases or the way we work? You know where to find us!
Discover our latest success:
Social Advertising
L1NDA Connect
The catering industry in the Netherlands has been using L1NDA for years to schedule employees through a customizable schedule. To improve their value proposition L1NDA introduced the platform L1INDA Connect. Throught this platform L1NDA helps catering businesses recruite expierenced young proffesionals for oustanding shifts. This can however only work if potenial employees sign up on the platform. This is why they asked Whello to help convince as many young professionals as possible to sign up.
Read More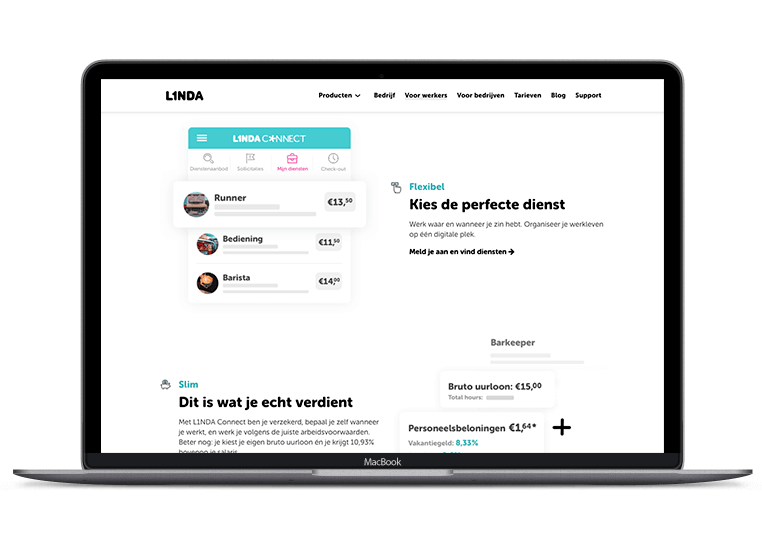 Social campagne
Check out our areas of expertise
At Whello,
we're an open book
We believe in co-creation to boost online success. We keep you involved in the process and results, because no one knows your brand like you do.
The benefits:
Improved results through using your knowledge of your business
Faster strategy implementation through involving everyone in the process
Increased efficiency through keeping you in the loop and making your input count
Whello was founded in 2014 with the conviction that marketing is simply a tool for growth. To this day, that remains the foundation of our culture. Using our Whalemodel™ growth plan, we look beyond just your marketing. First, we analyse your proposition (the why), before putting together your marketing strategy (hello). Why, hello, Whello.
Whello offers a full range of digital marketing expertise, all in one place. Combining these skills creates a powerful synergy. Our web developer, for example, creates better-performing websites by working closely with our SEO and CRO specialists. Likewise, our in-house copywriters ensure our e-mail marketing's more effective.
Get to know the specialists working at Whello right here.
We always start with a discovery phase. This includes meetings, company visits and market research of you and your competitors before we get started on your strategy.
Informal communications aside, we set up regular routine calls and meetings. Every quarter, we come together to evaluate your strategy in a Whello Session and adjust our plan for growth.
Together with your team, we create a unique growth plan with clear goals. Our specialists make sure that every area of our marketing efforts can be measured, and optimise your marketing channels daily.