Many advertisers come up with Facebook ads hoping the social media giant will do the rest for them. Although creating a marketing campaign always involves trying to find the right balance, it's a waste of time and money to launch ads without any sort of strategy. For an effective Facebook campaign, you will need to know how and when to show a certain ad. In order for your social media efforts to pull the weight you need, we'd like to present you the 4 steps for an effective Facebook marketing campaign.
Step 1: social media personas
To create an effective advertisement, we actually need to understand our customers. Using a social media persona can help you do so. Social media personas are fictional persons, made up of the characteristics of your ideal client. These personas put a proverbial face to your client base, making it better possible to define and market to your most profitable clients. When creating a persona, you'll need to be as specific as possible and look further than just demographic characteristics. In addition to a name, age and profession, personas also have certain interests, likes and dislikes. Try to get the whole picture.
Tip: use your most valuable customers as a source of inspiration when creating your social media persona. Don't be afraid to jump into your customer database when doing so.
Step 2: the funnel
Great, by now you should have a better idea of your companies' persona. Including this persona also should give you a clear idea about your social media goals. Yet it is also important to consider what phase of the buying process this persona actually suits. What we're trying to say is that you can make up different personas for different phases of the customer journey. Think of suitable goals for each of these phases. A short example illustrating this: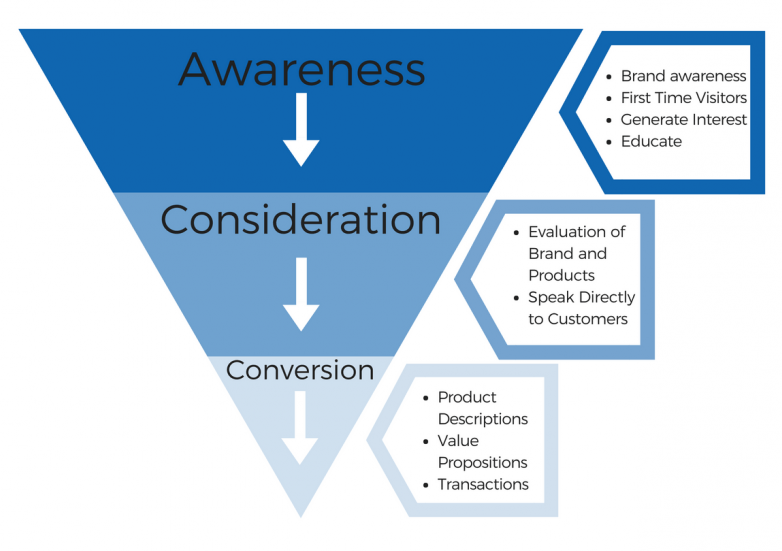 Step 3: creating an effective Facebook marketing campaign
It is now clear who you would like to reach, with what message and how you will measure this. This instantly makes setting up a Facebook campaign a lot easier, because your goals match the offered campaign options of Facebook. Now, it's time to set your goals and write an appealing advertisement with customised content for each of these personas.
Step 4: optimise
It is important to constantly keep an eye on the advertisement you put out there. To get the most out of your campaign, it is important to continuously optimise your ads and never consider the job as done. Therefore, we have prepared 7 optimisation tips:
✓ Always launch at least 2 creatives (Facebook ads)
✓ Test different ad formats
✓ Create A/B tests for your audience
✓ Use the Look-A-Like audience
✓ Retarget people who engage with your brand on Facebook
✓ Retarget certain pixel events (eg. contact us page)
✓ Apply different creatives (carousel / lead form)
Do you want to get started with an effective Facebook marketing campaign? We're glad to say that Whello is your social media agency in Amsterdam. Our team of online professional also houses several social media geeks who have built up a lot of valuable experience in terms of social campaigns. With an effective social media approach using channels such as Facebook, Instagram, Linkedin and YouTube, we will reach your target group and fastly move towards conversion. We're ready to get you social. Let's get some work done!
Read our other blogs