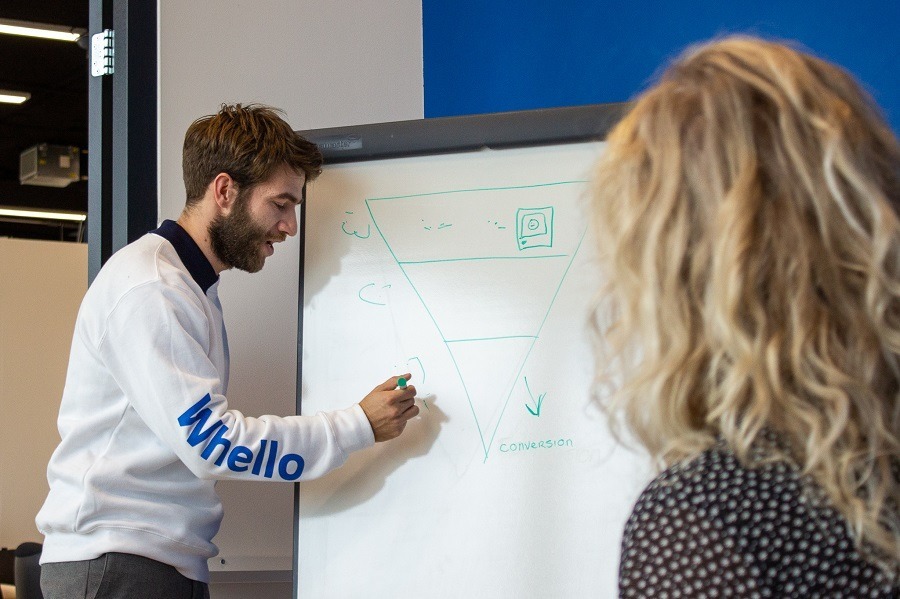 How do we win over Dutch audiences?
We're known for helping fast-growing brands succeed in the Dutch market.
Content strategy: we localise your brand's content, look & feel, so they hit the spot
Campaigns: stay fresh in your target group's mind with ads they'll see when they're out & about. Use our insider knowledge of Dutch social media trends to win over your target audience
Video marketing: introduce your products in style with dynamic creative concepts
Want to find out how we'll help your brand take off in the Netherlands?
So when we say the Dutch way of life…
…What are we talking? We're an international team at Whello, but our heart and soul are truly Dutch.
Clarity, always: the Dutch appreciate clear, precise messaging, which is what our campaigns are about
The Dutch are know for being direct: authenticity is key, so we help you communicate your brand values in ways that will resonate
Localisation: the Dutch speak great English, but you're onto a winner if you create a fully Dutch brand profile
A Dutch marketing campaign?
Sure, we'll bring in results
We're an all-in-one marketing shop that'll put together the perfect team for you. Who's on that team? Well, it depends on where you're at with your growth. We'll bring in the marketing specialist you need when you need them.
Working together with Whello
You'll get your own marketing strategist
Together, you'll determine which specialists you need
With a flexible team, we can quickly act on marketing opportunities
Whello offers a full range of digital marketing expertise, all in one place. Combining these skills creates a powerful synergy. Our web developer, for example, creates better-performing websites by working closely with our SEO and CRO specialists. Likewise, our in-house creative copywriters ensure our campaigns are more effective.
Get to know the specialists working at Whello right here.
During an assessment, we determine together where your marketing opportunities lie. Based on that, we assemble a team. These specialists are an extension of your marketing department.
Within a fixed number of hours per month, they will work with you on a growth plan. Every quarter, we analyze the marketing opportunities and deploy the specialists you need at that time.
Our team works step by step on the marketing growth formula:
Translating your brand story to strong local content
Building a persuasive website
Setting up successful local campaigns
We have in-house data specialists who make all actions measurable. We optimize extensively and share the learnings with you. During the strategy sessions, we discuss all the data insights. This way, we make the right choices together on the path to growth.
You expect initiative and direction from your marketing partner. We understand that better than anyone else. Therefore, working in established routines is the foundation of our approach.
Count on weekly updates, monthly report meetings, and a quarterly evaluation in the form of a strategy session. This keeps everyone up-to-date and allows for timely adjustments.
Branding & webdesign
JUSTIN Recruitment
The assignment? Reaching a young Dutch target audience through a complete rebranding and marketingstrategy. We used everything in our arsenal to make this a succes.
From the logo to the new website and from SEO to videomarketing. The result? A big job application percentage on the site from the right audience
Read More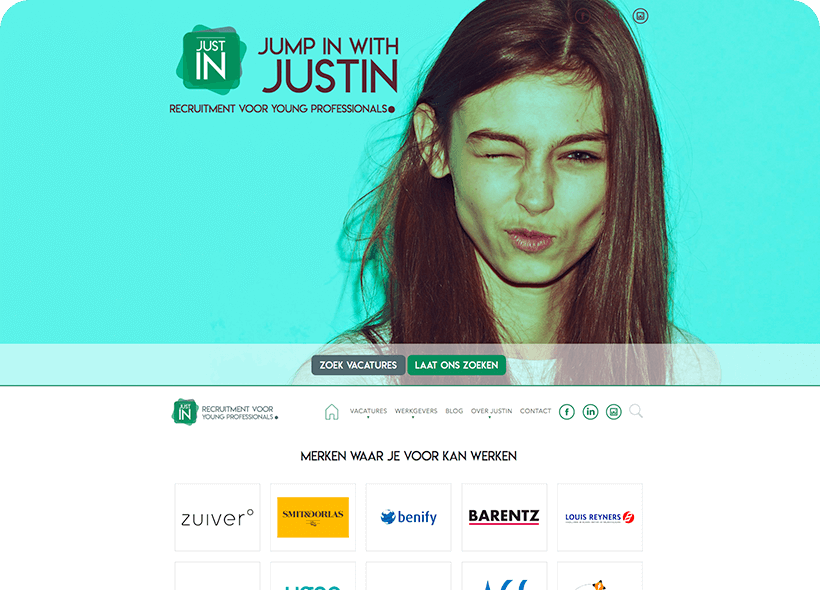 Branding & design