Social Advertising Specialist
Lennard van Garderen
Social Advertising Specialist Lennard kan soms helemaal wegdwalen in zijn creatieve gedachtes. We noemen hem ook wel onze dromer. Hij denkt graag buiten de lijntjes voor het behalen van resultaten met social campagnes. Dit mixt hij met zijn strategische inzicht en zijn inlevingsvermogen in iedere klant en zo maakt hij iedere campagne tot een succes.
Lennard vindt het belangrijk om de verbinding te zoeken met zijn klanten. Samen content creëren en duidelijk overbrengen wat hij doet zorgen zijn belangrijk voor een goede samenwerking.
Lennard is dol op 'oude meuk' en het verzamelen ervan. Hij heeft in de loop der jaren een flinke collectie aan oude posters en filmkaartjes opgebouwd. Het zal je dan ook niet verbazen dat hij een filmpas heeft en hij in het weekend het liefst naar de bioscoop gaat. Hij houdt vooral van oude maffia films. Waarom hij zo'n passie heeft voor films? De combinatie van het creatieve concept, de kleuren, toffe dialogen en de sfeer die een goede film kunnen overbrengen.
Skills van Lennard ?
Met een team van gedreven specialisten helpen we bedrijven bij Whello succesvol te maken. Met deze skills draagt Lennard een waardevol steentje bij aan dit succes.
Creatief
Klantenbinding
Strategisch inzicht
Proactief meedenken
Oude posters en filmkaartjes verzamelen
Social Advertising for the Amsterdam University of Applied Sciences
Getting professionals and entrepeneurs behind the school desks. We achieved this through a catchy social campagne!
Read More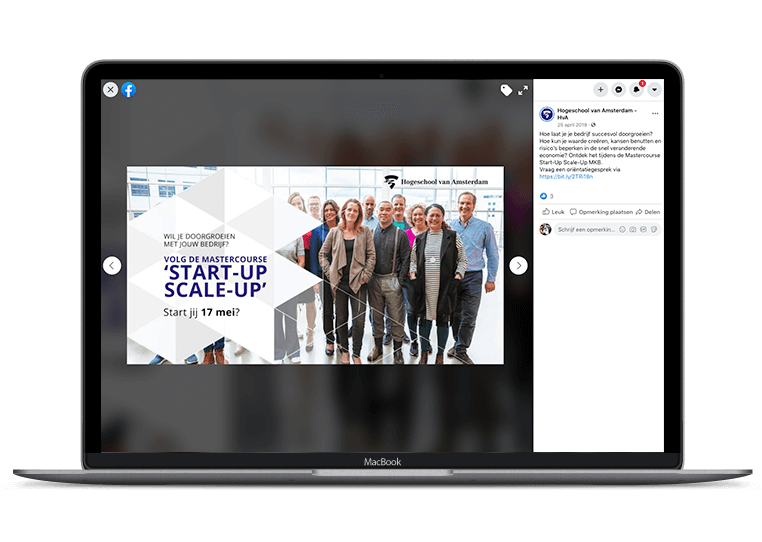 Volle klaslokalen!