Marketing Strateeg
Serge de Sousa
Serge is co-founder van Whello. Zijn passie voor (online) marketing ontdekte hij al vroeg. Als kind gamede hij veel samen met anderen. Het sociale aspect combineren met het digitale aspect sprak hem toen al aan. Dat hij besloot een opleiding Commerciële Economie te volgen was dan ook geen verrassing. Daarna rondde hij een Master in Management Studies met een specialisatie in marketing af.
Al vroeg in zijn carrière runde hij samen met Nasser (medeoprichter) de marketingafdeling bij een internationaal gerichte vastgoedorganisatie. Ze werkten veel samen met marketingbureaus, maar vaak ontbrak het inlevingsvermogen in de branche en de klant. 'Dat kunnen wij beter!', dachten zij. Zo legden zij in 2012 de eerste hand aan Whello: een full service online marketing bureau dat meedenkt met je propositie, zich inleeft in je branche & doelgroep en die kennis gebruikt voor winstgevende campagnes. 
Met zijn bedrijfskundige inzicht kijkt Serge verder dan het marketinggedeelte bij een bedrijf alleen. Het DNA van een organisatie moet overal in terugkomen. Het woord 'probleem' gebruikt hij liever niet. Uitdagingen creatief aangaan, daar ligt zijn kracht. En het schakelen tussen technische specialisten en managers of eigenaren van bedrijven.
Serge houdt van ontdekken en nieuwe dingen ervaren. Zowel op werk- als privégebied. Een vooruitziende blik helpt jezelf en bedrijven groeien, dat weet hij als geen ander! Daarnaast houdt Serge ervan om buiten zijn comfortzone te worden gezet. Van een berg snowboarden nadat je uit een helikopter bent gesprongen bijvoorbeeld. Of parachute springen. "Die adrenalinekick is fantastisch!"
Skills van Serge ?
Met een team van gedreven specialisten helpen we bedrijven bij Whello succesvol te maken. Met deze skills draagt Serge een waardevol steentje bij aan dit succes.
Bedrijfskundig inzicht
Probleemoplossend vermogen
Schakelen tussen specialisten en managers
Marketingstrategie
Kijkt verder dan zijn neus lang is
Social Advertising for the Amsterdam University of Applied Sciences
Getting professionals and entrepeneurs behind the school desks. We achieved this through a catchy social campagne!
Read More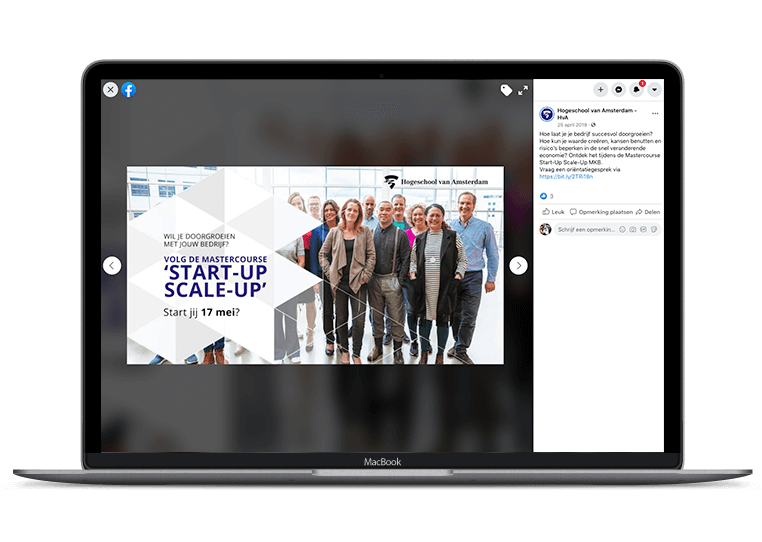 Volle klaslokalen!