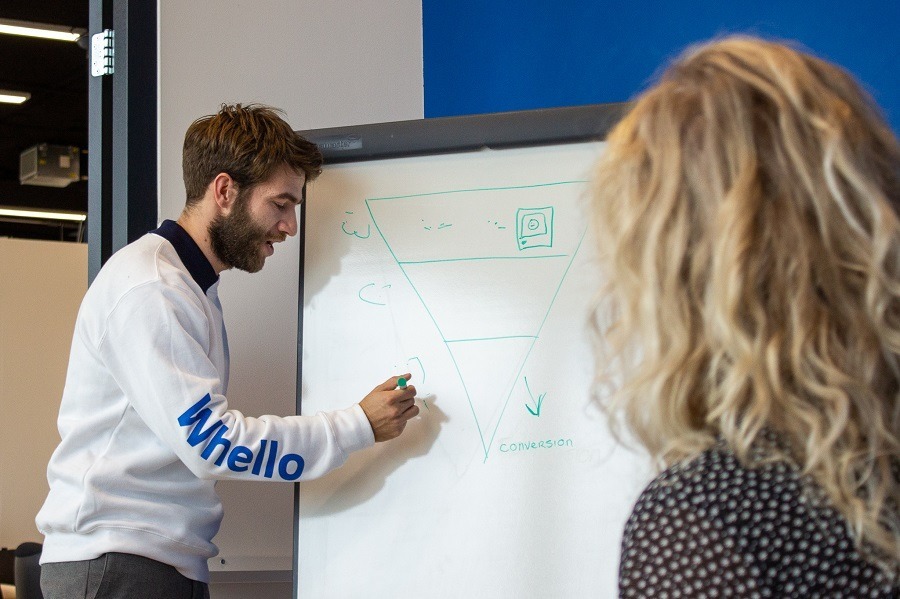 How do we win over European audiences?
We've got extensive expertise in replicating brands' success at home in all-new European markets.
Content strategy: we localise your brand's content, look & feel, so they hit the spot
Campaigns: stay fresh in your target group's mind with ads they'll see when they're out & about. Use our insider knowledge of European social media trends to win over your target audience
Video marketing: introduce your products in style with dynamic creative concepts
Want to find out how we'll help your brand take off in Europe?
Hitting Europe with Whello?
We've got a diverse team, with extensive knowledge of the cultural quirks of the various European markets.
Intelligent optimisation: we continually test your website, webshop & campaigns to bring in optimal results
A collaborative approach: we keep you in the marketing mix, because no one knows your brand like you do
Full-service expertise, in-house: web designers, SEO specialists, video producers… we've got all the digital marketing brains you need
A European marketing campaign?
Sure, we'll bring in results
If you're looking for a traditional online marketing agency, you're in the wrong place. At Whello, we don't believe in taking over your marketing without keeping you in the loop. We know from experience that co-creating with our clients is the surest path to success.
The benefits of co-creation:
Quicker results, leveraging your knowledge of your business
Efficiency through avoiding incorrect assumptions
Utilise our experience with localising international brands
Whello was founded in 2014 with the conviction that marketing is simply a tool for growth. To this day, that remains the foundation of our culture. Using our Whalemodel™ growth plan, we look beyond just your marketing. First, we analyse your proposition (the why), before putting together your marketing strategy (hello). Why, hello, Whello.
We start each project with a kick-off session, where we invite you and your colleagues to join our team and work on initial strategy. Throughout our collaboration, we also like to arrange regular check-ins so that we can familiarise ourselves with your corporate culture.
We lay down your objectives in our co-created strategy, such as your maximum cost per conversion. That way, we can quickly determine which campaigns are successful, and which aren't so profitable for your business.
Informal communications aside, we set up regular routine calls and meetings. Every quarter, we come together to evaluate your strategy in a Whello Session and adjust your plan for growth.
Branding & webdesign
JUSTIN Recruitment
The assignment? Reaching a young target audience through a complete rebranding and marketingstrategy. We used everything in our arsenal to make this a succes.
From the logo to the new website and from SEO to videomarketing. The result? A big job application percentage on the site from the right audience
Read More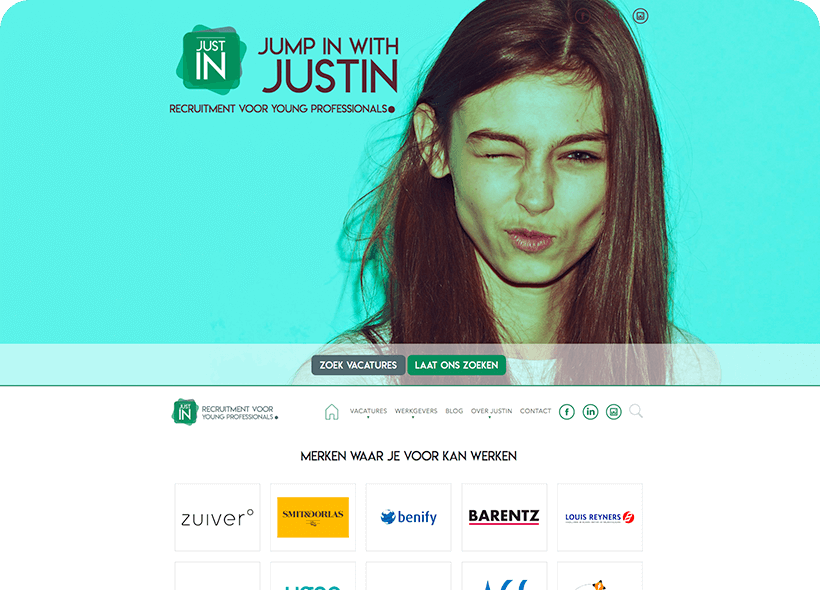 Branding & design