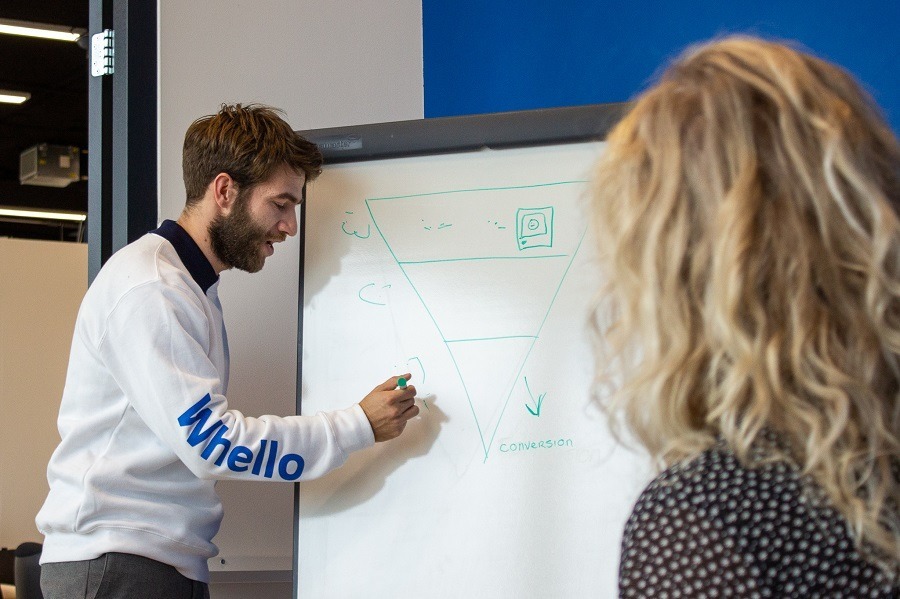 How do we win over European audiences?
We've got extensive expertise in replicating brands' success at home in all-new European markets.
Content strategy: we localise your brand's content, look & feel, so they hit the spot
Campaigns: stay fresh in your target group's mind with ads they'll see when they're out & about. Use our insider knowledge of European social media trends to win over your target audience
Video marketing: introduce your products in style with dynamic creative concepts
Want to find out how we'll help your brand take off in Europe?
Hitting Europe with Whello?
We've got a diverse team, with extensive knowledge of the cultural quirks of the various European markets.
Intelligent optimisation: we continually test your website, webshop & campaigns to bring in optimal results
A collaborative approach: we keep you in the marketing mix, because no one knows your brand like you do
Full-service expertise, in-house: web designers, SEO specialists, video producers… we've got all the digital marketing brains you need
A European marketing campaign?
Sure, we'll bring in results
If you're looking for a traditional online marketing agency, you're in the wrong place. At Whello, we don't believe in taking over your marketing without keeping you in the loop. We know from experience that co-creating with our clients is the surest path to success.
The benefits of co-creation:
Quicker results, leveraging your knowledge of your business
Efficiency through avoiding incorrect assumptions
Utilise our experience with localising international brands
Whello offers a full range of digital marketing expertise, all in one place. Combining these skills creates a powerful synergy.
Our web developer, for example, creates better-performing websites by working closely with our SEO and CRO specialists. Likewise, our in-house creative copywriters ensure our campaigns are more effective.
Get to know the specialists working at Whello right here.
We always start with a discovery phase. This includes digital meetings, face-to-face company visits and an European market research of you and your competitors before we get started on your strategy.
We use our own strategy templates which are a great way to capture what we know about the local European markets. They make it easy to define your goals, identify your target audience, describe where your offering fits in the local market, and understand your local competition.
Together with your team, we create a unique growth plan with clear goals. Our specialists make sure that every area of our marketing efforts can be measured, and optimise your marketing channels daily.
We evaluate performance and strategy on a weekly, monthly and quarterly basis.
Our experience with fast-growing international brands forms the bedrock of our services. You'll find an overview of our work here.
International campaigns
CowManager
CowManager's software and sensors allow dairy farmers to monitor their cows 24/7. Whello has helped this SaaS scale-up to gain market share in the Netherlands, Germany and North-America.
Read More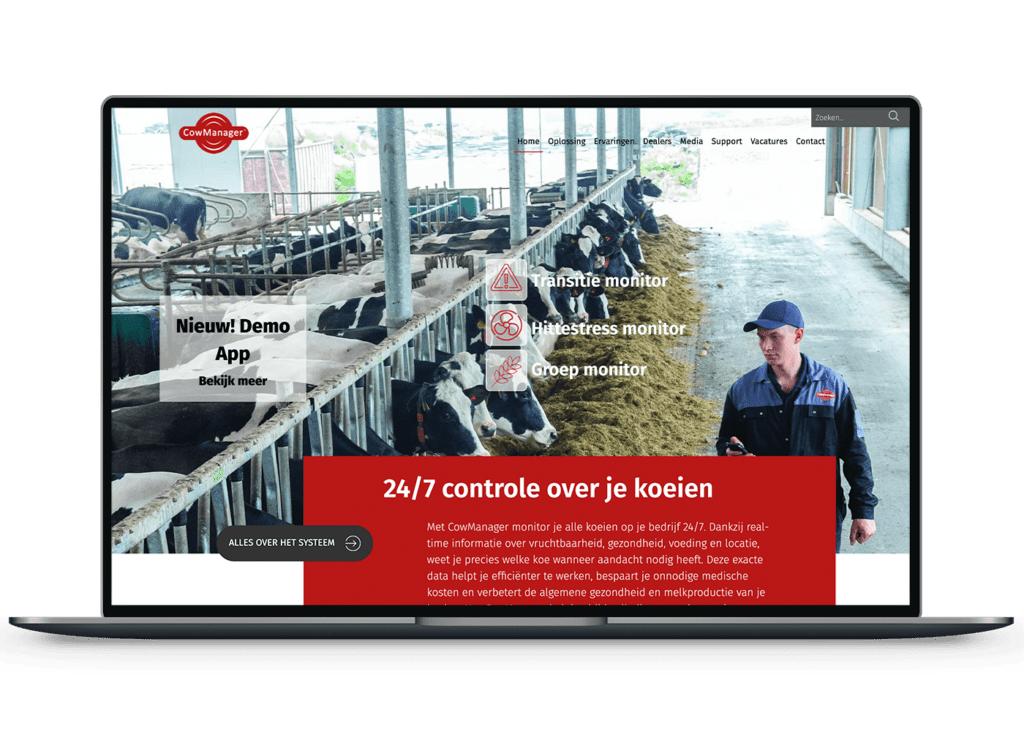 B2B SaaS marketing