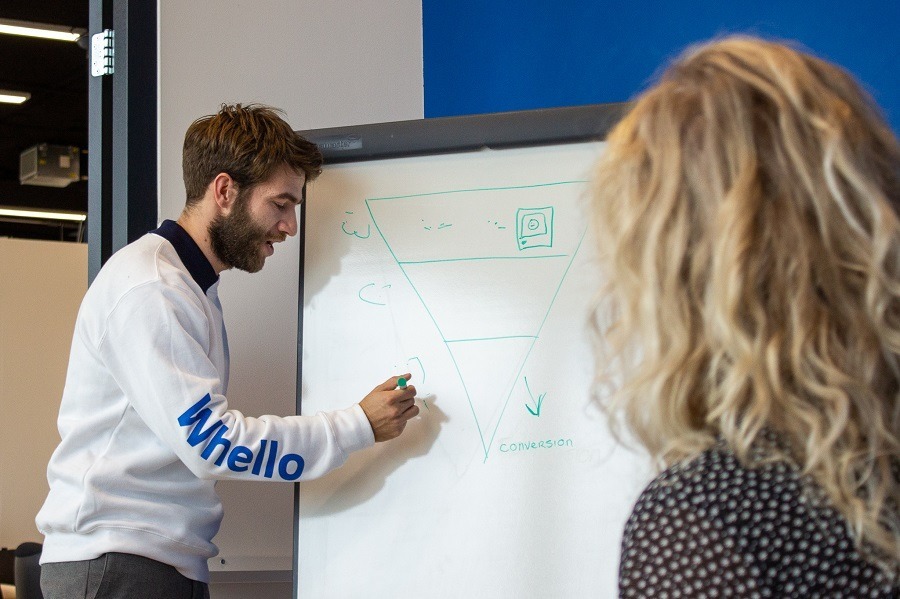 Performance-based marketing
Cost per download, cost per active player: these are the terms we think in at Whello. We understand that you want to see a clear return on investment (ROI), so we actively manage your marketing strategy based on predetermined goals.
To grow your gamer community, we go for the low-hanging fruit first. Call it growth hacking, a no-nonsense approach or performance marketing – that's Whello. We're happy to get things up and running rapidly, because we've already set up multiple successful campaigns for clients in the gaming industry. Are you up next?
The right digital marketing mix for your game
The Whello team consists of various specialists, from designers to social media experts and developers to SEO specialists. This allows us to utilise different channels for your campaigns. We generate rapid results using Google Ads, Facebook Ads, in-app ads and YouTube Ads. No channel is sacred to us. All that matters is: which combination of campaigns brings in the most active players?
We also make every conversion measurable using Google Analytics or Firebase. We check which clicks contribute to your overall results and optimise your channels until we've found your golden digital marketing mix. Makes sense, right?
A game marketing campaign?
Sure, we'll bring in results
If you're looking for a traditional online marketing agency, you're in the wrong place. At Whello, we don't believe in taking over your marketing without keeping you in the loop. We know from experience that co-creating with our clients is the surest path to success.
The benefits of co-creation:
Quicker results, leveraging your knowledge of your business
Effectively avoid incorrect assumptions
We manage your campaigns, while keeping you in the mix
We set tailored goals in advance, such as the number of downloads and cost per download. Then, we analyse your player journey: how can we reach and win over your target audience? In this initial phase, we experiment a lot. We use various channels such as YouTube, App Store Optimisation, Facebook, Instagram marketing, Reddit, Stimulate Reviews and influencer marketing. After this test phase, we scale up the successful campaigns and boost your game!
Whello offers your company the benefits of all digital marketing services under one roof. Alongside our marketing specialists, we have designers and video producers in-house to handle your marketing across the board.
We lay down your objectives in our co-created strategy, such as your maximum cost per conversion. That way, we can quickly determine which campaigns are successful, and which aren't so profitable for your business.
We start each project with a kick-off session, where we invite you and your colleagues to join our team and work on initial strategy. Throughout our collaboration, we also like to drop in for company visits so that we can familiarise ourselves with your corporate culture.