Marketing strateeg
Mitch Lemans
Mitch is je eerste gesprekspartner wanneer Whello jou gaat helpen groeien. Het ondernemersbloed zit in hem. Dat komt goed van pas in gesprekken met onze klanten. Mitch voelt namelijk goed aan wat zij nodig hebben.
Daarnaast is Mitch een kei in mensen motiveren. Voor mensen blij maken en hen een goed gevoel geven staat hij iedere dag op. Met zijn enthousiasme en doorzettingsvermogen zet hij alle neuzen weer in dezelfde, positieve richting.
Ken je dat gevoel nog wanneer je je zwemdiploma haalde? Dat gevoel heeft Mitch telkens als hij de ring in stapt om te sparren. De gezonde spanning die je ervaart wanneer je gaat sparren ziet Mitch als een uitdaging. Iedere sparsessie, technieken toepassen die je in de training hebt geleerd om telkens een beetje beter te zijn. Ook dat komt terug binnen Whello, elke dag een beetje beter zijn net zoals de campagnes. Geen grote stappen zonder de kleintjes 🙂
Skills van Mitch?
Met een team van gedreven specialisten helpen we bedrijven bij Whello succesvol te maken. Met deze skills draagt Mitch een waardevol steentje bij aan dit succes.
Motiveren
Proactief zijn
Strategie bepalen
Levelen & behoefte begrijpen
Eten zo lang de voorraad strekt
Social Advertising
L1NDA Connect
The catering industry in the Netherlands has been using L1NDA for years to schedule employees through a customizable schedule. To improve their value proposition L1NDA introduced the platform L1INDA Connect. Throught this platform L1NDA helps catering businesses recruite expierenced young proffesionals for oustanding shifts. This can however only work if potenial employees sign up on the platform. This is why they asked Whello to help convince as many young professionals as possible to sign up.
Read More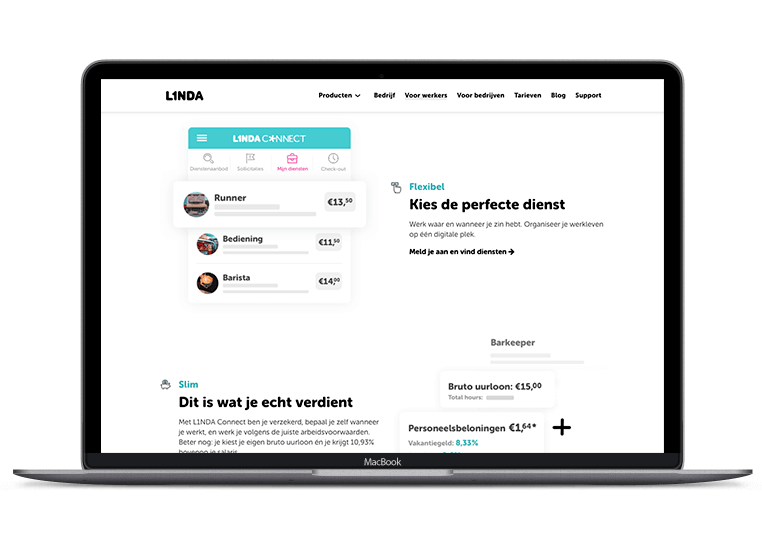 Social campaign